Trending wall decors/wall paneling are a hot topic in the field of interior design. It's an important part in making a house a home. With so many choices, it can often be difficult to decide on a certain style. However, there are ways to find the perfect wall decor for your home.
What is Wall Decor?
Decorating your walls is a great way to make your home feel unique, but it can be both expensive and time-consuming. Wall decor is like that little thing that makes a big difference. No matter u may furnish your home buying furniture from urban ladder or pepperfry, end results wont be as expected. That's why you need designer to bring life to your walls. Designing wall includes all the room walls like Bedroom wall decoration, Dining room wall decoration, Foyer wall decoration, Living room wall decoration etc.
Most Wall panels come ready to install panels with no finishing required after installation. But the premium materials like veneer, solid wood, glass, stones and tiles require finish work after installation.
Louvers Wall Panels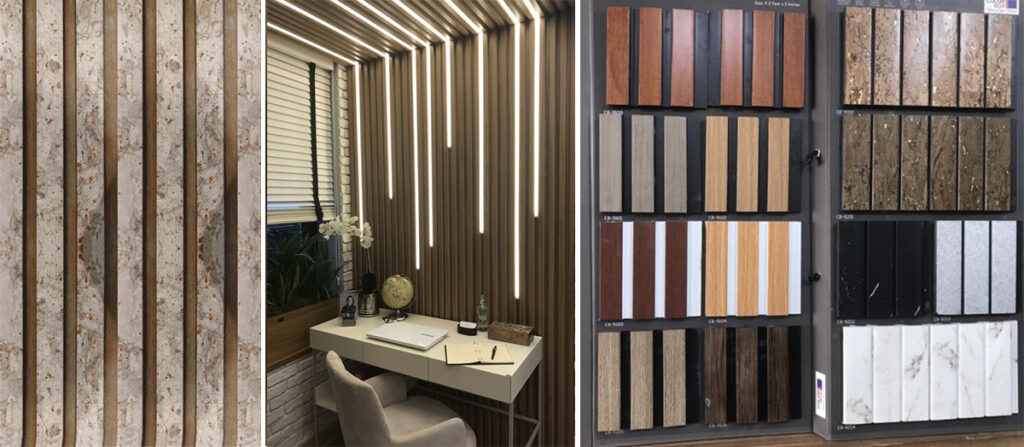 Louvers are a decorative element that can be used in any room. They can be made of wood or metal, they can be painted or stained, and they can also function as a room divider or as a wall covering.
louvers panel are also called as Charcoal Clads having Seamless Portable Pattern. Used to beautify Interior walls and ceilings in homes, offices & hotels, etc. Louvers is setting design trends for modern interior decoration with a wide variant of elegant textures and rich colors that can transform simple decors into incredibly beautiful designs. Perfect combination of stylish and technology, that offers a cost-effective, realistic, super durable alternate to the real wood fluted panel and other 3D wall panels. Panels come in 5″ x116′ and 8'X 114″ inches size.
Glass Panels
This trend is all about adding elegance and class to your home. Glass panels are a great way to make a statement in any room of your home, whether it's the kitchen, bathroom or living room. They can come in many different styles and sizes so there is something for every style of decorating.
Glass panels are made up of two or more pieces of glass that are held together by metal framing. There are many different options when it comes to choosing the type of glass for your project:
Clear – This option is perfect if you want an unobstructed view
Frosted – The frosted look will add an element of privacy without obstructing too much light coming through
Color Tinted Glass – Great option for those looking for something that's decorative and functional, also has a beautiful pattern
Wainscoting
Wainscoting is a type of wall paneling that can be used to decorate the walls of your home, whether they're bare or already covered in wallpaper. Wainscoting is also known by other name as Charcoal moulding or Wooden moulding patti. These wooden patti are used in making borders on the walls or edges of table, desk, counter tops. and painted or polished depending on the requirements. It's an attractive addition to any room because it gives any space a classic look by bringing back memories of years gone by.
Faux Panels
Faux panels are fake panels, these are basically made from Styrofoam which are hard foam panels. these panels mimic other materials look and feel soft to touch.
They're also incredibly cost-effective—much less expensive than real wood or stone paneling. they're easy to install. Faux panels come in all shapes and sizes, so you can choose ones that match the style of your home or room.
Fabric Panels
Fabric panels are a great way to add texture and depth to your wall. They can also be used as a way to hide imperfections, or even add privacy. Fabric panels are available in different patterns and colors, so they can match any decor. These panels also have the benefit of adding warmth to your home because they're made out of fabric!
Fabric wall decors are perfect for any room in the house that needs some personality! You can find faux leather or faux suede fabrics too if you want something more durable than real fabric but less expensive than leather or suede (and easier to clean). Fabric Panels reduces nose which is an add-on feature.
Wallpaper
Wallpaper is a great way to make your home feel more like you. Whether you have a specific theme or just want to add some flair, wallpaper is an easy way to update the look and feel of any room.
Premium wallpapers come with itching textures and real glitters. Custom print wallpapers are perfect for creating a unique look in your home.
PVC 3D Panels
PVC 3D Panels are a great alternative to traditional 3D MDF Panels. They're easy to install, available in a variety of styles, and can be easily painted.
What's more? You can use them to create faux walls or dividers in your home!
As the name suggest, made of PVC material with custom patterns and prints. PVC panels are a factory-made lightweight, less sturdy, and long-lasting material. They are simple to transport, handle, and install on site, and they do not produce a dusty environment while installing.
Note: At Mayatar we do not recommend PVC panels for any premium projects, as they look cheap, less desirable finish after. Overall 3D visual looks in pictures are good than actual.
Vertical garden
Vertical gardens are a great way to add greenery to your home. They are beautiful and unique, because they can be installed in any room of your home.
Vertical gardens are unique ways to grow plants and flowers. These vertical gardens will allow you to create a space that is natural and beautiful, without taking up too much space in your home.
3D MDF Panels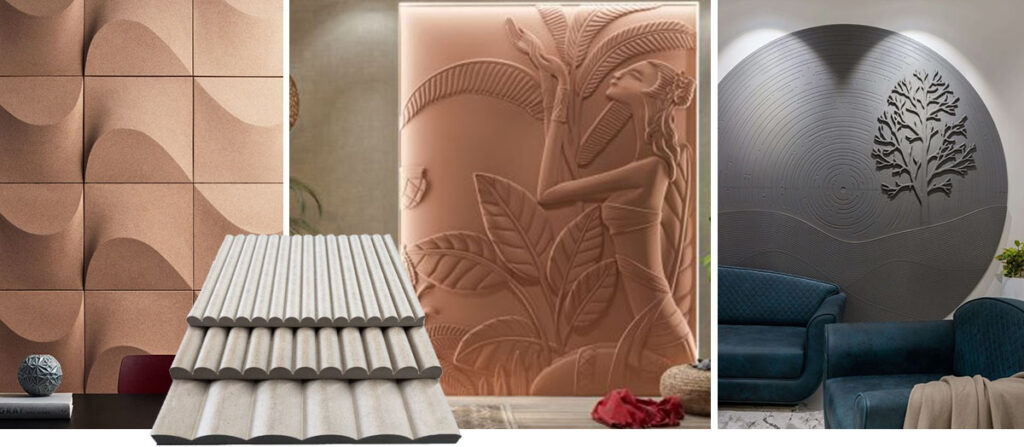 This material is also a great way to decorate a room. 3D MDF Panels are easy to install, and you can use them in any place that needs a little extra flair. They're pre-molded for your convenience, so all you have to do is paint or stain them in whatever color scheme you want for your space. Plus, these panels come with a matching backing so that the screws won't show through when it's up on the wall!
MDF Wave Boards 12mm is a 3D-effects interior decoration material. It's trendy, unique, and stereoscopic. It's perfect for vertical applications like walls, furniture, ceilings, and pillars, among others.
Each panels cut to size and, if required, with a high quality, spray finish in a wide range of colours to match all popular brands.
Wooden panel
The wooden panel is a type of wall paneling that is made out of solid wood. It can be used in decorating the entire wall or even just a small area of the wall. The advantages of using this over its counterparts such as tiles and wallpaper are many, but here are just some:
Versatility – Compared to tiles, the wooden panels have more customization options. You can also paint them any color you want without worrying about cracks on your walls after some time because these panels won't crack easily unlike tiles.
Realistic character – Some people love things that look authentic to real life objects, which is why they tend to prefer wood over other materials like metal or plastic when it comes to decorating their houses or apartments with different kinds of furniture pieces like tables, chairs etcetera; hence wooden paneling gives off more authenticity than anything else around us when placed onto walls too!
Painting
Painting is a great way to add color and texture to your walls. It can also be a quick and easy way to change the look of a room without spending too much time or money.
Painting is an especially good option if you want to highlight features in your home, such as built-in bookshelves or windowsills. You can even use paint as an accent on furniture, sofas, chairs or tables. Plus it's easier than wallpaper!
Stone/Marble/Granite/Tiles Cladding
Imagine your room clad in the sleek stone, marble or granite. The texture and color of each material will be able to create a focal point in your room. Stone cladding will allow you to have a unique design for your interior as well as natural look that we all love so much.
Stone cladding can be used for kitchen cabinets, bathroom vanities, fireplace surrounds and even on walls! It's durable and long lasting which is perfect for homes with kids and pets running around (or if you're just clumsy like me). Though it's easy to clean because of its smooth surface, raw stone cladding may still require lacquer polish which can brings more contrasted finish.
Acoustic Panels
Acoustic panels are made of fiber materials that absorb sound waves. They are used in soundproofing which adds a great advantage too. The panels can be used for walls, ceilings and floors as well as windows and doors to improve the acoustic performance of your home by reducing noise from outside and inside the house. Acoustic panels come in different shapes and sizes so that you can choose according to your needs.
Conclusion
And that's a wrap! We hope this article has given you some inspiration for the design of your next project, whether it's an office or a home. There are many different types of wall panels available depending on what kind of look and feel you're going for, so get creative and have fun!
Reference : Treelam wall panels
If you want your home to look modern and cozy at the same time, it's important to make decisions in choosing the right Designer that suit your needs. If you'd like to be consulted by our designer, Drop your contact here