Are you trying to cut home interior cost without sacrificing style and quality?
Do you dream of having an elegant home that is comfortable at the same time? Of course, who doesn't want such a thing — but with the current economic climate and ever-growing expenses, it's really hard to see how one could actually do it. There are some tricks, though. You can definitely cut costs while maintaining a certain level of style. Just follow the tips laid out below by our Mayatar team and you'll be on your way to a home that's both stylish and affordable.
This article will help you solve below questions on every budget home interiors.
Low budget interior design?
Cheap decorating ideas?
Affordable home decorating ideas?
All you have to do is learn how to do cost cutting in home interiors without compromising the quality. This is a simple yet extremely useful article for the homeowners who are budget conscious and love to do DIY projects themselves.
But How?🤔
Pick paints instead of wallpaper
Paint is a great way to bring color into your home, but it's also much less expensive than wallpaper. If you want to add a pop of color to a room, you can easily do so with paint. At initially glance cost of wallpaper might looks less, but for a long run we do not recommend, it has its own drawbacks. starts pealing off if walls are not leveled-up with putty and primed with oil primer. Lets say you are looking to replace with new wallpaper, again putty and oil priming is required after removing old wallpaper. While painting is just rolling up and down.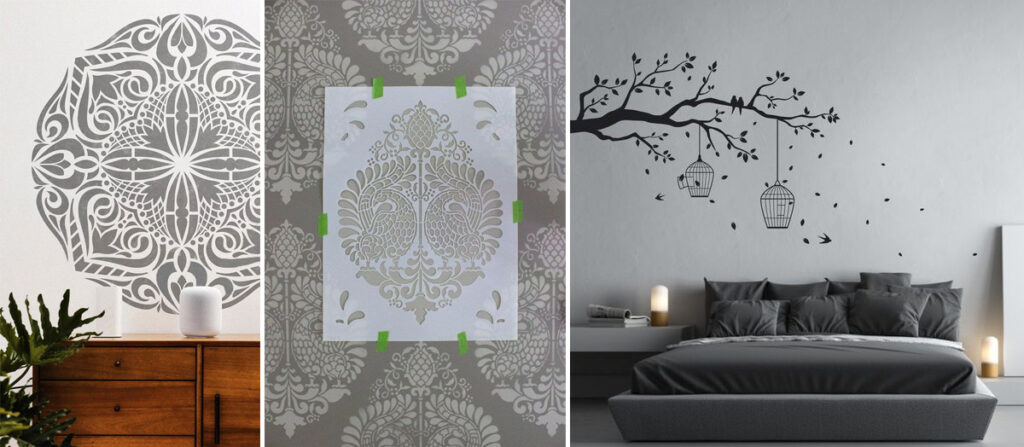 Note : If you're a DIY kind of person, look for wall paint stencils from Asian paints or Amazon it. You'll fall in love with these kinds of techniques for jazzing up your walls.
Avoid over crowding the house with storage cabinets.
The biggest mistake people make when they're trying to save money on home interiors is over-crowding their house with storage cabinets.
Here's the thing: if your home is too full of things, it will feel more cramped and cluttered than if it were sparsely furnished. This is especially true in small spaces like apartments or dorm rooms, where every inch matters!
Consider these tips:
Avoid over extending the wardrobe lofts.
Avoid having more kitchen loft storage
Avoid odd looking extra old furniture.
Think about what you need in each room—do you really need more than one wardrobe in a room ? Avoid all these to cut home interior cost
Avoid over crowding the ceiling with false ceiling
Avoid making too many different types of ceiling deigns in one room. If you have multiple styles in one room, it can make it look cluttered and messy. Instead, stick with one or two styles throughout the whole house so everything feels unified and cohesive.
Note : A false ceiling only around the corners is the right way to go as budget is concerned. This type is called as peripheral false ceiling design.
You can skip false ceiling by using surface ceiling light panels which also hides wires on the ceiling too.
Choose multi purpose furniture
When it comes to home interiors, you don't have to break the bank to get the look you want. Instead of buying individual pieces that only serve one purpose, try buying pieces that can serve multiple purposes. For example, an ottoman could double as a coffee table or storage space (if you're not using it as a footrest). Or using bedside table as dresser table. You can also choose a sofa that doubles up as a bed and even includes storage space.
Another way to save money when decorating your home is by using lamps instead of table lamps. Lamps are more versatile and can be used in different areas of your home. A floor lamp can also serve as a reading light which will save you space on your desk or bedside table. Also sofa cum bed, wall beds, foldable table etc.
Choose laminated wall paneling
The first thing that's great about laminated wall paneling is that it's very affordable. You can get a ton of panels for a little money, and you can use them to cover almost any surface. Laminated wall panels are also easy to install. They're light enough that two people can carry them into place, and they don't require any special tools or skills to install.
Finally, laminated wall panels are very durable and long-lasting—they won't fade or chip over time. It is carpenter friendly materials.
Below article helps you discover more alternative ways to use laminates with other materials to achieve affordable interior design
Note : Combining the laminated paneling with other highlights like steel T-Patti (Color coated aluminum profiles or with different laminate designs can really bring awesome look to your home decor on a budget.
If you want your home to look modern and cozy at the same time, Along with highly knowledgeable work experience in finalizing the materials in sync with the Owner's budget. it's important to make decisions in choosing the right Designer that suit your needs. If you'd like to be consulted by our designer, Drop your contact here