Those who are looking for kitchen sinks are likely to be interested in the types available. Many people make a snap decision on the type of sink they go with. They don't take into account other factors that can affect performance. For example, if a person goes with a popular sink, but it constantly needs repair, he could be in trouble. This blog will help you understand the factors that affect kitchen sinks and how to choose one that works right.
Types of kitchen sinks are numerous. The shape, size and material used in the manufacturing of kitchen sinks has a great impact on the overall design and functionality of this important household item.
Types of kitchen sink based on number of bowls
Single-Bowl Sink
A single-bowl sink is a great choice for smaller kitchens. It's also the perfect option for people who don't want to spend a lot of time cleaning up after dinner. This type of sink is ideal for families who have children with allergies, since there's less surface area for food particles to get trapped on. If you like to cook, you'll love this type of sink because you can wash your dishes and then get right back to cooking without worrying about what's going on in your kitchen sink.
Double-Bowl Sink
Double-bowl sinks are another popular choice among Indian homeowners, especially those who have larger families or who entertain frequently. Double-bowl sinks allow you to wash dishes at one end while someone else gets ready to cook at the other end! They're also great if you have limited space in your kitchen; they don't take up very much room and still provide plenty of room for all your needs.
Single-Bowl Sink With Drainboard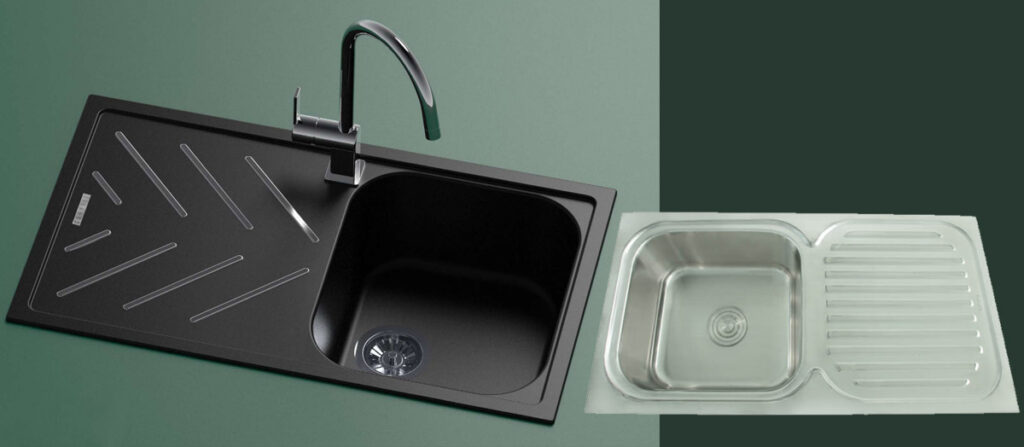 This sink is the most traditional option. The bowl is wide and deep, and it has a drainboard next to it. This type of kitchen sink works well for most households because it is large enough to wash dishes, serve as a workstation for preparing food, and store cleaning supplies underneath.
Double-Bowl Sink With Drainboard
A double-bowl sink is also a good choice if you're looking for something that's more practical, since it gives you more space to wash dishes. The downside is that it takes up more space than a single-bowl sink and can be more expensive, depending on the material of choice.
Types of kitchen sink based on mounting
Top-Mount Sink
Top-mount sinks are the most common type of sink installed in a kitchen. They're easy to install, and they provide a lot of flexibility because you can choose from a wide variety of colors, materials, and sizes. This type of sink requires a lot more care and maintenance than other types of sinks.
Undermount Kitchen Sink
Undermount sinks are installed below your countertop, which allows them to be mounted flush against it without leaving any gaps between them. This helps prevent leaks from happening underneath the sink—making it ideal for kitchens where water damage could be an issue.
Integrated Sink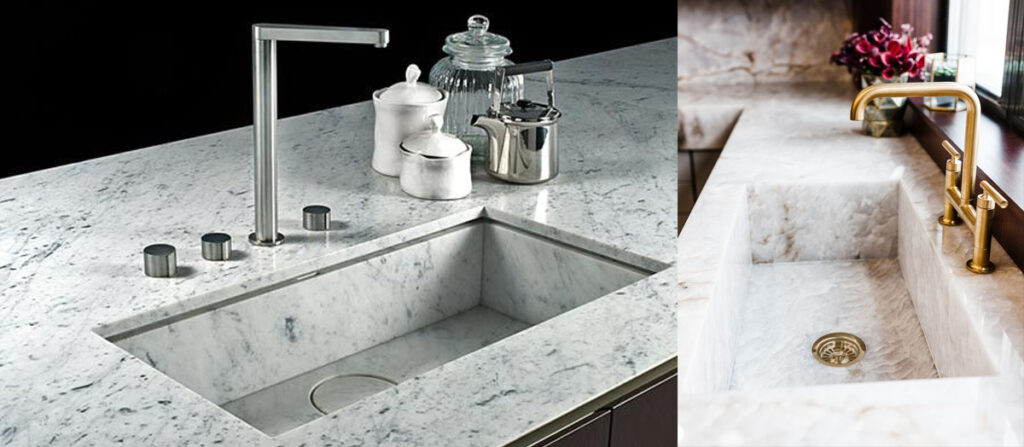 The integrated sink is for those who desire a sink that seamlessly blends in. It is made from the same material as the countertop, such as stone, metal, solid surface or quartz. Depending on your needs, you may want to consider using an integrated sink instead of other types out there because they are easy to maintain and clean up after use. The only thing you need to do after each meal is wipe down any messes left behind with a damp cloth before they dry up on their own!
Types of kitchen sink based on finish
Stainless steel (Grade-304) Kitchen Sink
This is one of the most popular finishes for a kitchen sink because it's easy to maintain and clean. It also comes in a variety of styles, including single bowl, undermount, and built-in. Stainless steel sinks are durable and can be used for both residential and commercial applications.
Quartz finish Kitchen Sink
Composite quartz sinks are made from 80% quartz and 20% acrylic, a mixture that gives sinks a stone-like quality. The material is coloured with pigments to resemble granite and other natural stone finishes, while being resistant to scratches, dents, stains and cracks. This gives kitchen sinks a velvet look and feel, with a finish that's non-porous and enduring. Quartz finish sinks are food-safe, easy to clean and very hardwearing.
Stone Kitchen Sink
Stone kitchen sinks are a popular choice for those who want to bring a touch of natural beauty into their kitchens. These stone sinks are made from natural stones like granite and marble. Stone sinks are available in a wide range of colors, including green and brown. These colors can also be mixed together to create a unique look that will set your kitchen apart from others. Stone sinks are easy to clean and require little maintenance. They are also durable and long-lasting, so you won't have to worry about replacing them anytime soon.
Concrete Kitchen Sinks
Concrete kitchen sinks are not popular option that many homeowners find appealing because they offer an industrial look. Concrete is made from cement and water, which means that it's extremely durable but heavy and adds too much extra weight to your cabinets or countertops when installed.
Porcelain Kitchen Sink
Porcelain sinks are a hot new trend, but they aren't exactly on the radar in India. Porcelain sinks are custom-made from a plain slab of porcelain, and they're tough, easy to maintain, and give your kitchen a seamless look. They're also lighter than ceramic sinks, which means you don't have to worry about them weighing down your countertops.
In India, however, we rarely find porcelain professionals who can help you make the best sink for your needs. Which makes a very expensive to have it in your kitchen.
Ceramic Kitchen Sinks
Ceramic kitchen sinks are also very less popular in India. Ceramic Kitchen Sinks do not come in wide variety. You are limited to selection.
Top Brands for Kitchen sinks
Carysil, Futura, Franke, Kaff, Neelkanth, Hindware, etc.
If you want your home to look modern and cozy at the same time, it's important to make decisions in choosing the right Designer that suit your needs. If you'd like to be consulted by our designer, Drop your contact here