An increasing number of people are opting for modern modular interior. There are many options available for people looking to buy some but don't know how. Read the article if you're in doubt about which modular furniture would be right for you!
You're moving to a new home and you have decided that it is time to buy new furniture. You walk into the living room and see a modular sofa set. Or perhaps modular kitchen cabinets are what you need? Let's find out what is more beneficial in the long run, a modular furniture set or not. Let's take a look at some pro's and con's of each option.
What is modular interior?
What is the difference between modular and non modular furniture?
What is modular in Livspace?
Modular interior Pro's :
Modular cabinets comes in limited layout, no matter what layout you chose it comes only in straight modules. panels that are used in modular cabinets are prefabricated in centralized factory.
Modular cabinets are pretty fast to install, easy to rearrange the modules, It's easy to replace a broken part. and It is cost-effective in the long run.
Modular interior Con's :
Modular cabinets cannot be bent to any other forms, or mix and match of materials is not at all possible. Design flexibility is limited, as the layout is only in straight modules. You have to settle for the pre-made layouts.
Finished panels can never be seamless to the edges due to two different materials are used in the factory for the faster processing of the panels.
Modular cabinets are limited to laminates, acrylic and Membrane finishes only.
Modular cabinets are not suitable for high-end projects, as there is no option to use premium materials like solid wood, veneer, Poly-coat, Ceramic finish, PU finish, Duco finish etc. Manual furniture making is an art, needs time for a craftsman to achieve a premium finish. It is an expensive process as it involves many skilled craftsmen to work together and produce a premium finish. It requires a lot of planning and designing before starting the project which takes time. Manual furniture making is not for everyone, only for those who are passionate about craftsmanship work.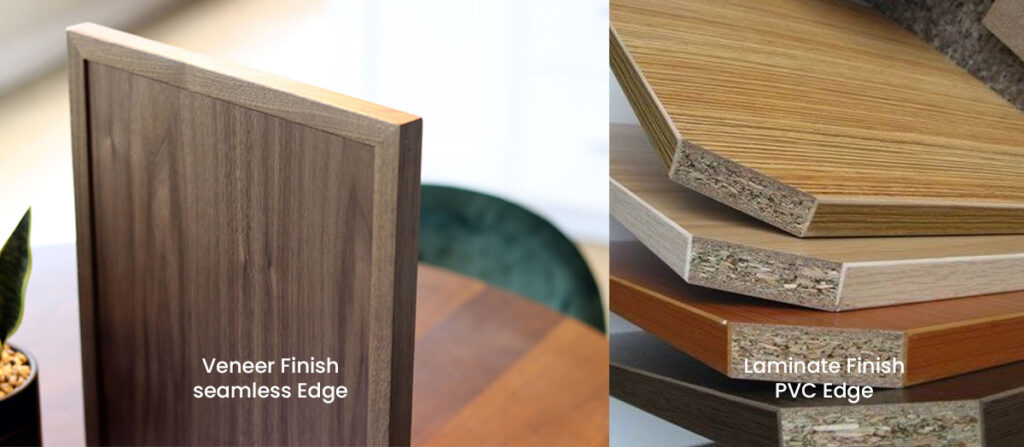 Since the rise of mass production and cost cutting measures, modular furniture has been the inferior choice for all but the most simple tasks, namely cheap storage within a room. While mass produced parts are typically interchangeable in their construction, often times leaving models with large gaps or hollow portions, true bespoke cabinetry serves as an all-inclusive product that is seamless from top to bottom. Modular furniture simply does not offer that luxury.