When choosing a chimney for your kitchen, there are many features to consider. This article provides in-depth information about each type of chimney so that you can make an informed decision about the appliance that will best meet your needs.
Electric chimneys remove the steam and cooking smells from your kitchen, making it a healthier place to be. Not only do chimneys keep away bad odours, but they also prevent grease from building up on walls and cabinets, which makes cleaning up easier. Electric chimneys are a worthwhile investment for any kitchen.
When you're shopping for a kitchen chimney, be sure to consider how well it fits in your kitchen, how well it works with the suction power of your hood is, what type of filter is most comfortable for your cooking habits and what other features are included with the product.
Chimney filter types
Baffle: These filters are best for Indian kitchens. They catch oil, dirt, and other debris while releasing fumes. Baffle filters are made of stainless steel flute mesh, which are curved and can be removed for cleaning in three to four months. These chimneys don't make much noise while working, also it's easy to clean them yourself because they come in detachable forms. Suction capacity is higher compared to Cassette filter as the air passes through filters easily.
Cassette/Mesh: These filters are used to catch any type of solid particles like grease as the smoke passes through them. They are usually made of stainless steel or aluminum. You need to clean this filter frequently for your machine's uninterrupted and efficient suction capacity. Suction capacity is lower compared to other filter types as air passage is less through mesh filter.
Charcoal filter: A charcoal filter is least popular types of filters used in kitchen chimneys. It's made of a charcoal slate with holes that absorb dirt particles and grease. Charcoal filter are also suitable for ductless models, and you don't have to worry about maintenance, just have to replace the charcoal filter with a new once in a year or when ever the suction capacity goes down.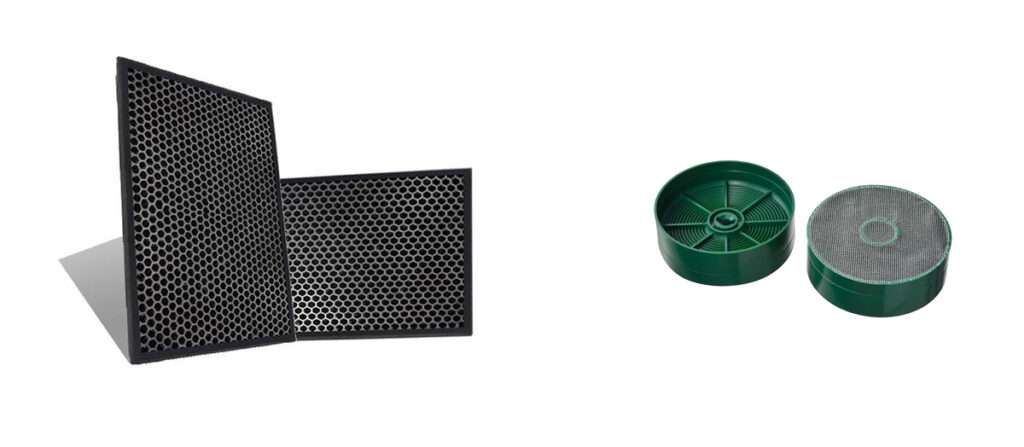 Filterless: Filterless Chimneys are a new type of automated chimney. They collect grease in an oil collector as the heater is turned on, And motor that provides better suction for air, smoke, and other gases. They are easy to maintain because there are no filters to clean; however, they are slightly priced more compared to any other types.
Which chimney filter is best?
Modern chimneys do not have oil filters. They are not designed to be easily opened and closed, making them more expensive than traditional chimneys. However, if price is nota constrain choose a filterless, else baffle filter chimneys because they don't require constant maintenance. The Auto Clean feature on modern chimneys cleans them more effectively than other models, so they don't need to be manually cleaned as often.
Quick Tip: Cleaning baffle filter chimney or any oil filters are also easy if you are a DIY person. Visit a nearest hardware store and ask for 1kg caustic soda. Place the filter in a plastic tray or a bucket. Rinse it with 40degree hot water, add 100g of caustic soda an stir until it dissolves. wait for 20 min. With just a gentle brushing you will witness the magic, all the grease can be removed.
Push Buttons Vs. Touch control Operation?
When you buy a chimney, make sure it has controls that are easy for you to use and maintain. Chimneys come with buttons, touch panels and touch panels with wave technology. And each type of control panel comes with its own advantages. Wave technology makes operating your chimney as simple as waving your hand at it. Physical buttons can be difficult to maintain because grease tends to settle around them; wiping off that little space is not easy.
Suction speed
A chimney's suction speed refers to the velocity at which it sucks up smoke. Most electric chimneys have two or three-speed settings so that you can adjust the suction speed according to what food you are cooking. Noise levels increase as you switch on to higher speeds.
Lighting
Chimneys with lights are convenient to use while cooking. They come with LED lamps that last longer than traditional incandescent bulbs, and they have quick-release light casings, so you can change them easily when needed. Advanced chimneys come with advanced features that allow you to change the brightness and color of the light.
Mount Type
Based on the layout of your kitchen, we can help you choose the correct mount type. For instance, if you have an island kitchen, the hood is usually fitted over a cooktop and connected to the ceiling.
Heat Autoclean
Kitchen hood Is fitted with Heating pad on It's motor group assembly and oil collector cup at the bottom . Just with a touch on control panel Kitchen hood can be cleaned. by collecting oil from motor group assembly In to the oil collector cup with the help of heating pad.
To find a more inspiring selection of kitchen hoods/chimneys, please click the following Elica Chimney, Faber Chimney, Kaff Chimney, Prestige Chimney, Hindware Chimney, Glen Chimney, Blowhot Chimney, Bosch chimney, Siemens Chimney, Hafele Chimney etc. for Best chimney in India
Check out this most advanced kitchen chimney-cum-cooktop by Elica. It's the latest downdraft induction cooktop that turns the point of view of the kitchen literally upside down.
If you want your home to look modern and cozy at the same time, it's important to make decisions in choosing the right Designer that suit your needs. If you'd like to be consulted by our designer, Drop your contact here