Sobha Dream Acres Apartments are abundant, located near Panathur Road Bangalore. Purely made of modular construction. For the modern urbanite building a beautiful interior, the apartment's compact nature can be challenging. This 2BHK apartment is at convenient location with a contemporary design. (Interior project by mayatar.com)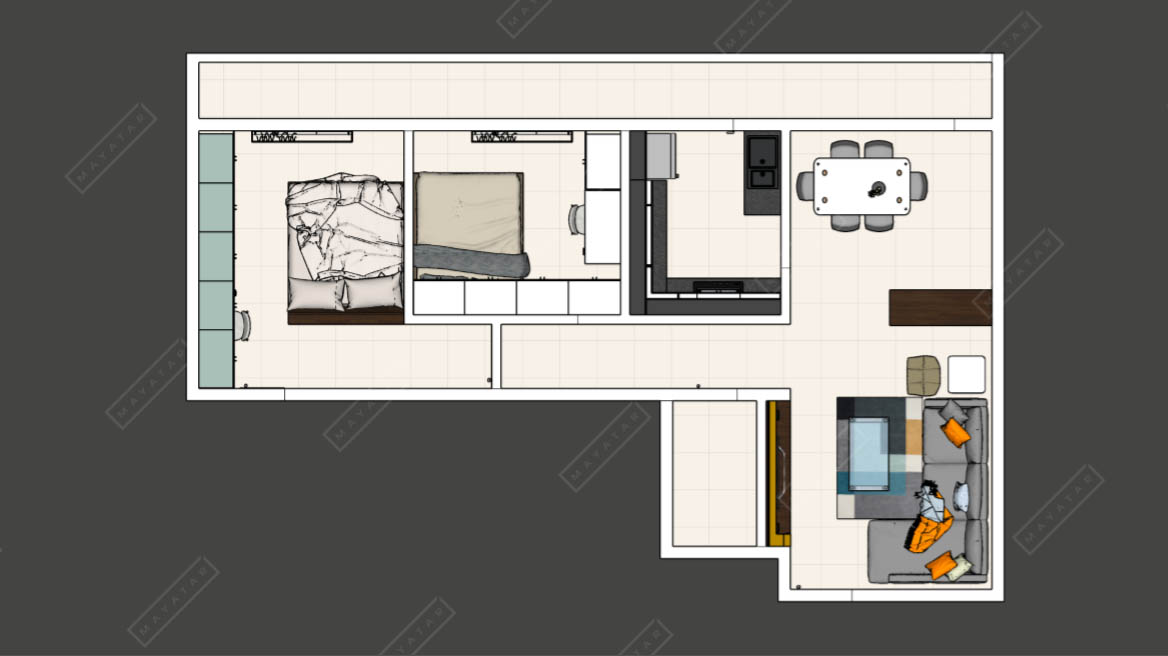 This apartment make great use of open living areas to maximize the usability of their floor plans. Each one feels spacious, bright, and leaves plenty of room for family activities and entertaining guests.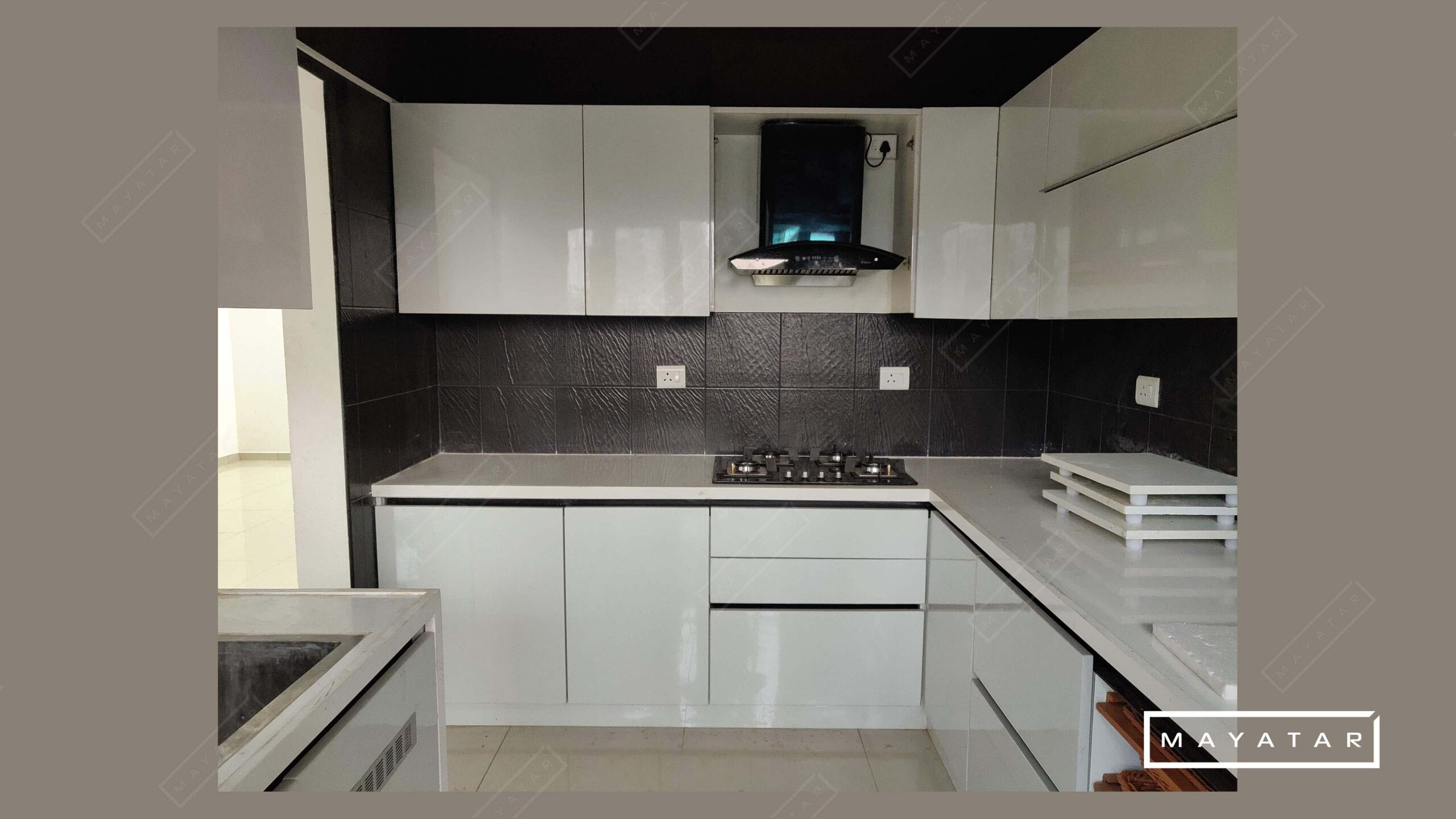 Modular kitchen with clean Lilly white laminates from Century laminates, No extruded handle concept, customized black powder coated J profile handles which creates a black thick border look with white panels, very specific for this project. A 70cm Glen hob & standard Elica Chimney with auto cleaning. The most expensive category stone form Kaling is used as kitchen top to brighten the kitchen from a dark black wall tile.
The kitchen walls at Sobha Dream Acres Apartment are completely tiled.
Now let's take a quick look at the bedrooms, featuring the same cozy minimalism as the rest of the home. Master Bedroom and Guest Bedroom is all handle less concealed to the door of wardrobe with white and veneer combination.
The use of natural wood and neutral stone makes it easy for residents to change color compliments on a whim. Sunlight floods the interior. Rather than opting for a neutral white, the designer chose a soft warm hue lights for a comfortable calming effect.
It is, however, more than just a partition; it also serves as a pooja room. There are glass shelves that can be used as a decorative item. Natural veneers are used throughout the unit. What a lovely way to start your day, giving you inner calm and power. And if you're a fan of natural interior design themes, you'll find plenty of ideas for décor on these tours.
One of the most important aspects of interior design is smart space utilization. If your apartment is lacking in space, a room divider can be installed to provide additional space or to enclose a small portion of the room where you will have privacy for studying, working, and other activities. A room divider can be a very lovely touch in the apartment, whether it is in a dining room or in the living room. The type of divider we can employ is usually determined by the room's size and shape. The image above is an example of how to split a room into a dining area and a living room in a creative way.
Sobha Dream Acres Apartment Interior
Home interior designs, beginning with modern living room designs with contemporary TV Unit, false ceiling, modular kitchen interiors, bedrooms with roomy wardrobes, simply capture the beholder's eye. We primarily aim to fulfil our clients' dreams; we bring every small section of your interiors to life with an exclusive range of designs and complete the project within the time frame specified.
We recently completed a project in Sobha Dream Acres with the best design and high-quality materials based on the client's specifications. Please contact us if you require any additional information.
Note: If you'd like to be consulted by a designer, Drop your contact here