Client's Requirement : Complete home renovation, In hues of grey, we had to work on a simple brief given by the client, which was to design a home for a family of 4 members, and Entire house tiles replacement, Keep interiors as minimal as possible. (Project Budget 12 Lakhs)
Elita Promenade interior renovation Concept note :
It is a house with a color palette of grey and medium wooden accents. It is also a good use of white giving it an open and arid illustration with a contemporary look to the whole project. The combination of furnishings and the subtly flowing natural light augment the concept of sturdy yet simple design within the house. The material palette is comprehensive and follows the choice of minimal furniture.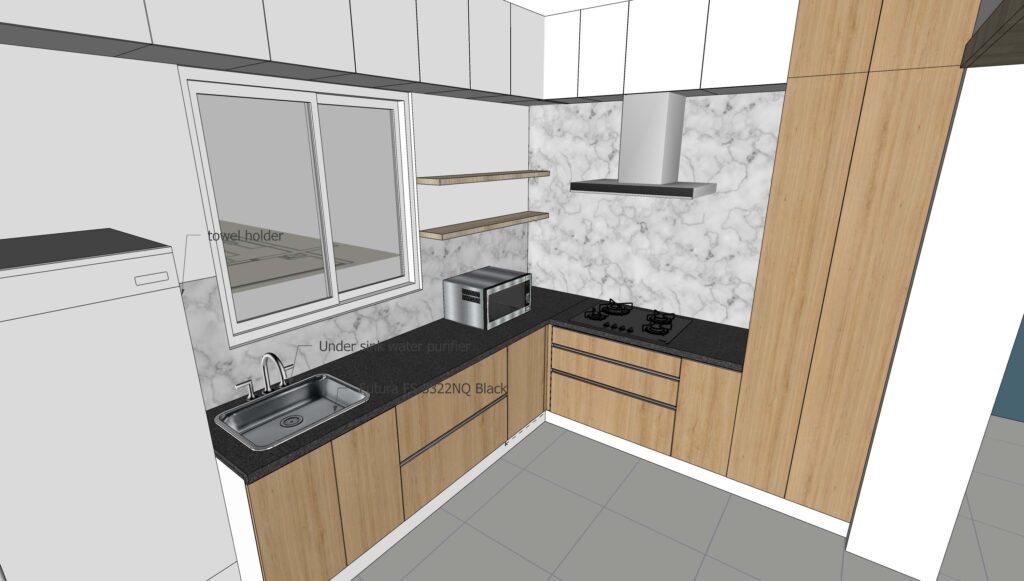 How much should I budget for house renovation?
We recommend our clients to have a minimum 15% budget of total house value.
Design ques
Selection of materials plays a prominent role in the living room design, since the living room and dining room are combined as one and that looks bigger. We finalized with neutral color white marble high gloss 4×2 ft tiles. Not common size as 2×2, which reduces the number of grout lines.
Kitchen renovation included relocation of kitchen countertops, the sink, and faucet. Plumbing lines for under sink water purifiers.
All tiles that we purchased are from Manokamana Ceramics, Adugodi, Bengaluru
Is a bathroom renovation worth it? It depends on how the previous owner has used it efficiently. For the bathroom wall, we went for 4×2 size and for floor 2×2. Less grouting, less leakage.
Elita Promenade interior renovation work done :
Civil work, floor tiles replacement.
Complete Kitchen wall tiles replacement
Complete 2 Bathrooms wall and floor tiles replacement
Full house painting work includes 2 coat wall putty, 1 coat primer, 2 coat royal paint
Furniture work includes 3 wardrobes, modular kitchen, utility storage, vanity, tv unit etc.
All windows and doors repair
Complete 2 bathroom fittings, commodes, sinks etc.
Complete house electrical switch board replacement
Surface lighting and Décor light fixing.
You can contact the above project designer directly for any queries on home renovation Here.