3BHK interior at Assetz property is a ultimate abode of luxury. With more space and options than any other multi-storeyed apartments, 3BHK home offers the finest contemporary lifestyle that anyone can dream of. 3BHK apartment interior design is a complex task. Our Interior design professionals help customers create the ultimate living environment they need in this space.
Apartment in Bangalore is an appealing project from Assetz property where you can feel the culture and heritage of India. Assetz has always been dedicated to helping people find absolute relaxation and comfort and have come up with a number of projects for offering just that, including the Apartment in Bangalore.
Living Room
The living room ceiling is made of wooden rafters, and there are strips of lights around the drop-down ceiling. The curtains are full-length and have a track on them; they hang on one side of the TV wall. This will allow you to control how much sunlight comes into your home by simply pulling open or closing the curtains as needed. On the other side of the TV wall are two long, floating cabinets. There's an acrylic coffee table in front of the sofa.
Home Bar
Home bar furniture is a growing trend in homes. It makes sense, it's the place in your house where family and friends gather to chat, share ideas, enjoy a good drink and have a great time! The home bar unit is made with glass doors and spot lights to show off bottles, wine coolers and other storage units. You'll also be able to store your favorite vodkas and other beverages!
Dining
This dining area display cabinet is a great way to make the most of an empty wall. It's ideal for showcasing your collection of glasses, cutlery and crockery.
Master bedroom wardrobe
This wardrobe is a very shiny dark shade of grey and has been manufactured with the finest precision. It has 2 doors that slide open effortlessly, and on top of that it has another set of 2 doors that are soft in color for easy opening.
This beautiful grayish-purple geometric headboard is tall and great for sitting up in bed to relax. The color gives a calming effect and is paired with beige side panels providing storage space, which are also great to lean against while relaxing.
Book storage
This is the perfect bookshelf for a living room. It can hold many books and has a transparent glass door that lets you see what's inside without opening it.
Guest Room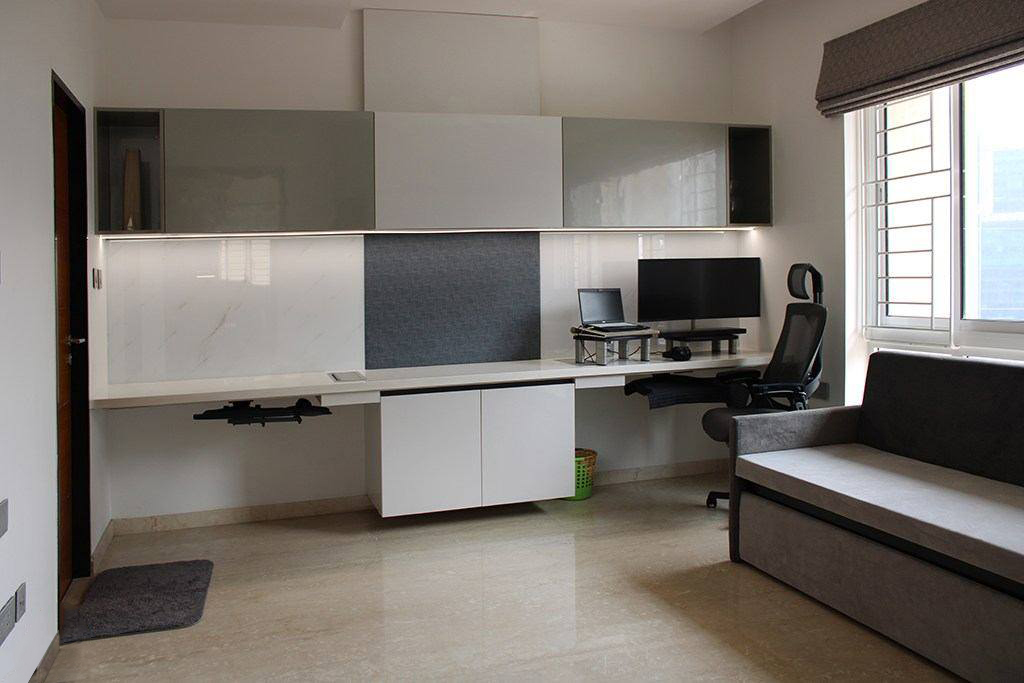 The guest room is furnished with an efficient home office setup, perfect for those who need to work from their homes. The wardrobe is similar as master bedroom wardrobe but with different color.
Kids Room
For the kids room, we have designed a simple and comfortable environment. The kids room has 2 single bed with simple cushion headboard and 2 seater study table. This bedroom is designed to be used by both boys and girls.
As you can see, the designer has done a great job of making sure that each room is designed in a way that fits with the space available and keeps everything organized while still being aesthetically pleasing. This space will be perfect not only for you but also friends, family members who come over to visit. You'll never have another bad day when they're around!
Note: If you'd like to be consulted by a designer, Drop your contact here