We will discuss most used Indian kitchen top, since they are more popular in present market and widely available. Totally depends on user choice and on your budget. Many apartment owners will not have a choice other than granite countertops since the builders provide them. You are lucky enough to select the desired kitchen countertops if builders won't provide them.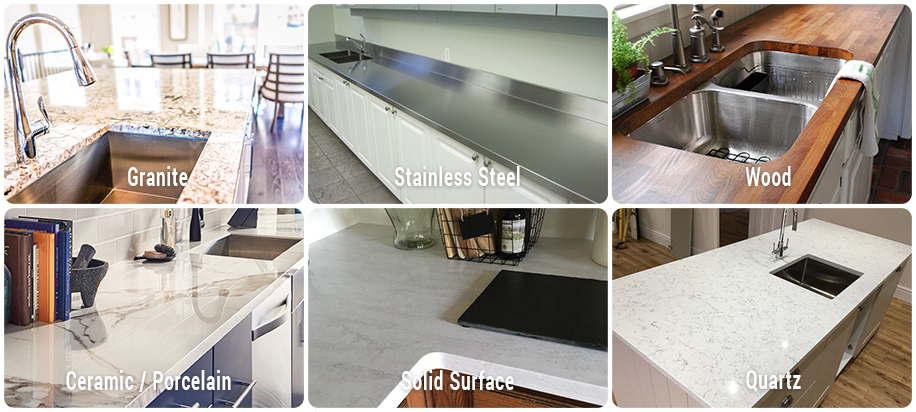 Granite Kitchen top :
Many types of natural stone are available for a kitchen countertop, out of these, the most popular option is a solid slab of granite. Beginning life as a quarried slab of solid natural stone, granite countertops are fabricated to specification and installed by professional.
Advantages : Solid granite slabs make very heavy and durable countertops. Considered a premium building material, granite countertops tend to improve home real estate values.
Disadvantages : Granite is a fairly expensive material based on the selection. No two pieces of granite are alike. Granite is not a DIY friendly material, it must be installed by pros.
| Types / Properties | Appearance | Price (₹) per SQFT | Stain Resistance / Easy Clean | Heat Resistance |
| --- | --- | --- | --- | --- |
| Granite | Deep, Rich, Complex and Unique in appearance | Price range from 80-400 | Sealing granite will make stain free, and Easy cleaning. | Virtually impossible to burn |
| Marble | Look fantastic, Variety, Unique in appearance, luxury | Price range from 350-1800 | Sealing Marble will make stain free, and Easy cleaning. | Virtually impossible to burn |
| Quartz | Look fantastic, Variety, Adds richness, Modern colors and Patterns | Expensive, Price range from 450-1500 | Hold up well against stains and need no sealing, Easy Cleaning. | Best at resisting burns and scorching. |
| Stainless Steel | Highly attractive, Everlasting, No Variety | Expensive, Price range from 2500-4000 | Easy Cleaning, No Stains. | Impervious to burns and scorch marks |
| Solid Surface | Unmatched Looks, Very attractive, Seamless Finish | Expensive, Price range from 450-800 | No Stains, Easy cleanng, | Burn like plastic, Can be scorched easily |
| Laminate | Fake looking | Price range from 50-150 | Easy to clean, Stains get embedded. | Heat Resistant but discolor the surface |
| Ceramic / Porcelain | Attractive, Variety | Price range from 150-600 | Yes, But not grout lines between tiles, Regular sealing of the grout lines is mandatory. | Heat Resistant, Virtually impervious to scorching or burning. |
| Wood | Attractive, Feels Soft, Natural | Price range from 400-800 | Need to keep wood counters sealed. | Excellent heat resistance |
Although there are those who disagree, quartz countertops, a form of engineered stone is the best of all countertop materials when all factors are considered.
Most countertops are made of some sort of stone or granite. Granite is harder than marble and is often less expensive than marble. However, it can be difficult to keep clean. The best way to clean granite is with a sponge and mild detergent. You should also use a soft cloth dipped in vinegar every few weeks to help remove stains and prevent them from reappearing for a longer period of time.
Marble Kitchen top :
It is a very popular material for kitchen countertops, but it's also one of the most expensive. The price of marble has a lot to do with its rarity and high demand, but this is also a very durable material that can last for decades if maintained properly. In order to keep your marble countertop looking its best, you should regularly clean it with soap and water. You should also use a stone sealer once every year or two to protect the surface from stains and scratches.
Quartz Kitchen top :
Is a popular choice for kitchen countertops because it's durable, easy to clean, and scratch-resistant. Quartz is made of crushed rock that has been heated and fused together. It's available in a wide range of colors and textures. The only maintenance required is that you wipe down your quartz countertops with a damp cloth once or twice a week. To make sure your quartz looks its best, avoid using abrasive cleaners.
Ceramic Kitchen top :
Porcelain are another common choice for kitchens because they are affordable, easy to install, and often come in a variety of colors and styles. However, they are as durable as other types of kitchen countertops.
Wooden Kitchen top :
are another popular option because they look great but they need regular cleaning and maintenance as well as protection from water damage (especially if they're unfinished). If your wooden countertop is unfinished then you'll need to seal it every few years so that it stays protected against moisture damage caused by cooking spills or condensation from humidifiers or air conditioners nearby.
Note : Prices may vary depending on the selection. You need to spend extra for installation.
If you want your home to look modern and cozy at the same time, it's important to make decisions in choosing the right Designer that suit your needs. If you'd like to be consulted by our designer, Drop your contact here