How do I design a new living room?
Top master guide to design a modern living room. From choosing color schemes to deciding on furniture, this article teaches you all the basics of designing a living room. You can do it yourself!
Your home is your castle, your base and your happy place. Whether you're looking for how-to advice to help you create a more beautiful and functional space, or just dreaming about a new layout idea for the future, we've got the inspiration and tips you need at every step of the process.
What makes a great living room?
Coffee Table
Living room furniture, Glass coffee tables are typically designed to stand out from their surroundings, so if you want your coffee table to blend in with your decor, try an gold plated metal frames with marble top finish.
Book shelf: if you are a book reader, consider this option.
Many people have lot of books. organizing is so painful. they enjoy reading, others enjoy collecting books. if you are particularly looking to adda book shelf in living room consider any design which has metal tubes black Power coated or gold PVD coated for luxury look. that hold up white wooden boards which line both sides of the shelf perfectly evenly spaced apart from each other.
Furniture: Sofa/Couch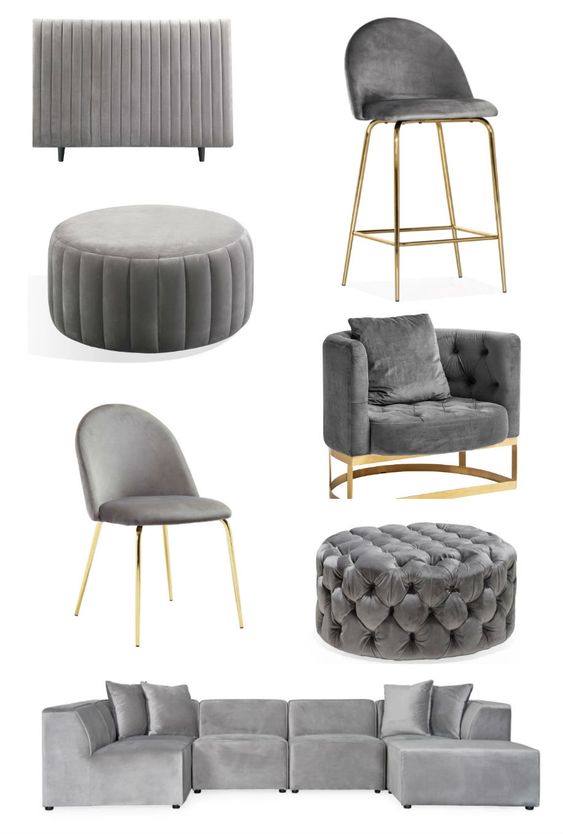 Leather couches are trendy and have a more contemporary look, fabric sofas have a softness and gentleness you'll never find with leather, especially in the cozy corner of your living room.
A well-chosen fabric sofa can can last more than 15 years. If you have children or animals, then it is worth looking at washable fabrics that are simple to clean. Or some sofas come with removable and washable covers.
Grey upholstered sofas smooth lines and contemporary appeal make it a stunning addition to your décor. The long chaise lounge allows you to stretch out for a nap or reading comfortably, making it easy to relax at the end of a long day. Do not forget to use any pop-up mild color extra pillows on sofas or couch, they actually enhances sofa's overall beauty.
Make sure you have enough room to move around the sofas. If you have limited space in your living room, avoid L-shaped sofas. We recommend sleek arm rest and well-supported back sofas for small spaces.
Look for gold accents, borders, highlights, and smooth cushioning on sofas for a luxurious look.
Tip: How to check quality of fabric? Pull the threads by pinching the fabric with your thumb and index finger. If the thread comes off, consider the fabric to be of poor quality. Also, comb the fabric from the inside to the outside to see if you can identify the density of the fabric. more dense, higher quality. Less dense, poor quality, and prone to tearing after a few years of use.
Ceiling Design
A false ceiling design can make your living room more attractive. False ceilings are meant to be as versatile as possible and can really change how you think about architecture inside your home. The use of false ceiling as a decorative material results in an overly fancy concept. As the name implies (FALSE CEILING), it should only be used to conceal electrical wires, pipes, and plumbing lines.
For a rich appearance use more POP only for European themed interior designs. for a modern appearance, consider a plain gypsum ceiling design with wooden ceiling in the middle or corners.
Lighting
Floor lamps allow for more flexibility in placement, can help light different areas of the room and come in a variety of styles.
Glass pendant lights are ceiling fixtures that hang from wires or rods, and provide ambient light, which is ideal for most living room designs.
To achieve modern astatic, use some track lights with flexible magnetic attachments.
Concealed lighting panels in the living room can be used in any desired area. It is very suitable for people who want to covertly illuminate areas that they like. it is specially designed as a hidden lighting.
Spot lights, this type of concealed lighting is cove lighting. This is where the light source is hidden away in a recess.
LED surface lights are unique LED lighting panels that allow you to set up a light source directly on your ceiling. These lights are particularly suitable for spaces where there isn't much space above the ceiling (or if you just prefer minimalist ceilings). You can install them in all types of ceilings, including gypsum board ceilings or plasterboard ceilings.
Decorating boring Walls
Living room is all about glamour and sophistication. There are several different paneling styles used in contemporary decorating schemes. One common style is carved panels. These panels generally feature a vertical groove, geometric shapes, carvings etc. these panela are then painted with hue colors in matt or glossy. 3D depth panel design bring shadow effects on the panels which is really awesome to see the finished product.
Most popular one is stone walls. Some designers seem to put the designer backdrop in almost every project and even the simplest backdrop can make a room unique. Highlighting the stone borders with metal strip profiles
A large wall can be a perfect canvas for creative decor ideas. You can create great looking 3D cushioned panels out of upholstery. The secret is to create the illusion of more space by using the right colors, fabrics and furnishings in your family room design.
Here we give you the variety of pictures, suggestions of living room. The modern lifestyle brings us a lot of conveniences. We can easily order food, get ready information on the Internet, travel by driving a car and so on. But there is something we cannot buy and it is not easy to do – design your home that looks cosy and elegant to eye.
If you want your home to look modern and cozy at the same time, it's important to make decisions in choosing the right Designer that suit your needs. If you'd like to be consulted by our designer, Drop your contact here